How do you plan to keep your user engagement rates high with your app? Our Vancouver App Development team has come across this question more than a few times, and has come up with some key points to help with some ideas to keep your users coming back to your app.
User retention is a key focus for every app out there. Statistics show that user rates drop dramatically by up to 77% within the first 3 days of downloading an app. That brings us to our first hint at keeping users interested and engaged:
1. Streamline Your On-boarding Practice
Efficiency is your best friend when it comes to designing your welcome screens. The last thing your consumers want to do, is spend too long on signing in or signing up to your app. A lot of apps are now incorporating a simplified sign-in process by adding the ability to log in with popular social media accounts like Google or Facebook. Adding this feature negates the time and effort the user has to put in to add their personal information when signing into your app. Another popular way to display your welcome messages, instructions or tutorials, is to allow the user to scroll through each screen, with a log in button displayed on each slide. This invites your users to look through at their leisure, or skip the steps and dive right in to exploring your app for themselves.
2. Simplify Your Layout
When designing your mobile app, choosing how to display important content is key. Will a list view be what you need to appropriately get your users to their needs quickly? Sometimes a map view can be useful, our Vancouver App Developers can attest that the significance of using the proper feed format is one of the most important functions of the app itself. Paying attention to the small details like icon placement and ease of use can pay off big time in the end. You don't want your layout to feel cluttered or place buttons in awkward places throughout your app. Check out the images below to see where the best placements are for action areas, according to individual devices (Image via scotthurff.com):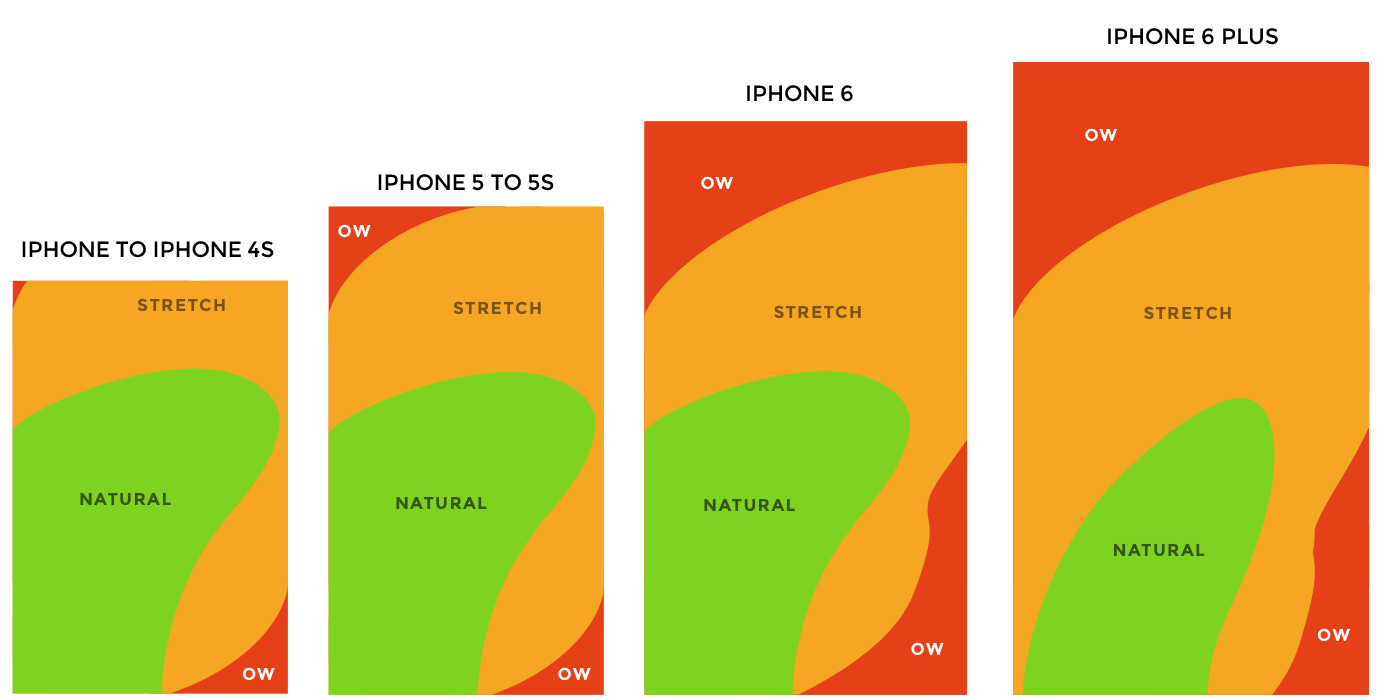 3. Highlight Your Call-To-Action Areas
Providing the right amount of Call-To-Action (CTA's) items to your pages is a delicate balance. Most apps are successful when they place their CTA's in a repetitive spot on each page, and placing them close to where the user will need that reminder. For example, a restaurant app could place an "Order Delivery Now" button near the bottom of the page on their menu list, as well as on the home screen. In combination with proper CTA placement, designing for an overall smooth and concise decision making process is the best way to avoid your users getting frustrated with too many prompts. As a user, having to make too many decisions, or prolonging the process by having to take too many steps to complete an action, will result in a significant drop in mobile app retention rates.
Conclusion
Overall, we feel that simplicity and ease-of-use is key when developing your app. Think about how you would want your ideal app experience and try to model that.  Also, if you want to chat more about your questions and ideas for your business app, contact us and our team would be happy to assist you in making your app dreams and reality. At Vog we build more than apps, we build businesses.
Source: https://apptimize.com/blog/2016/06/increase-user-retention-without-features/
https://vogvancouverappdevelopers.com/wp-content/uploads/2018/07/Blog-Header-Image-User-Retention.jpg
630
1600
Corinne Schneidmiller
https://vogvancouverappdevelopers.com/wp-content/uploads/2020/04/header-logo-sm.png
Corinne Schneidmiller
2018-10-20 21:08:21
2018-11-03 21:08:33
3 Ways To Increase User Retention For Your App